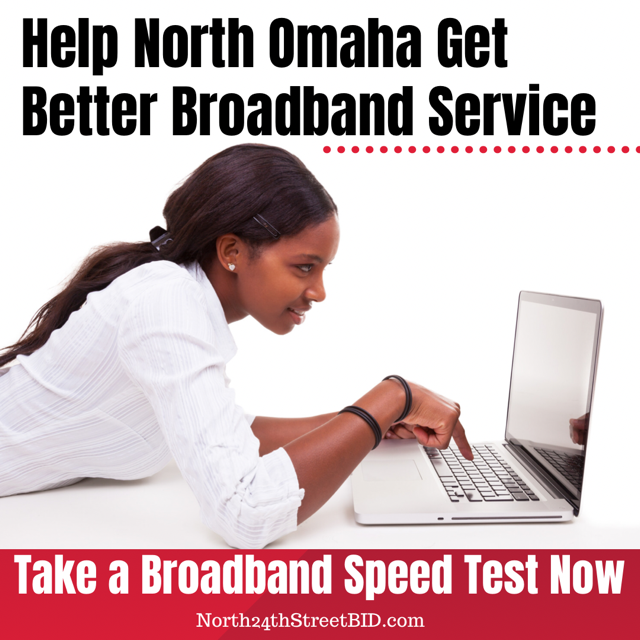 Help Us Upgrade Broadband Access in North Omaha
The North 24th Street Business Improvement District has submitted a grant application through the LB388 Nebraska Broadband Bridge Act to provide a fiber-optic upgrade of 1 gigabyte to the North 24th Street area. Data shows that the area is underserved. The broadband implementation will provide improved and affordable internet access to approximately 4,100 customers.  
Cox Communications and Centurylink are contesting our application.
WE NEED YOUR HELP. WE NEED 100 INDIVIDUAL APPLICATIONS TO DEMONSTRATE THE NEED FOR AN INTERNET ACCESS UPGRADE. EVERY APPLICATION COUNTS. 
Please take a moment to run the broadband speed tests from your computer as directed in the application and email your completed applications to lavonya@north24thstreetbid.com. 
Access the broadband speed test here. 
Record your broadband speeds on this application. 
Submit the application to lavonya@north24thstreetbid.com. 
Your individual application will be included in the North 24th Street BID's Nebraska Broadband Bridget Act LB388 application. 
Thank you for your support! 
North 24th Street is a world class destination rich in faith, family, and history, legendary for music, sports and the arts; seated in Omaha's thriving economic epicenter.
The mission of the North 24th Street Business Improvement District (BID) is to support the development, improvement, promotion and safety of the Historic North 24th Street.
BID Stakeholders Meeting* - Monday, December 6th at 11 AM

Spring Community Cleanup - Spring 2022

FREE dumpsters provided at 3118 N. 24th Street